November 27th marks Black Friday. RHSS Partnership and Canterbury BID will be seizing this opportunity to promote shopping online locally by 'renaming' it #BuyLocalBlackFriday.
With most businesses in the district closed for the Black Friday week – we all want to push out the message to residents to consider local businesses over big brands when shopping online.
What is planned?
A press release is being issued to Kent media about #BuyLocalBlackFriday and what it means to our economy to shop local supported by Cllr Jeanette Stockley, Vice Chair of the Regeneration and Property Committee.
A graphic has been produced that you can download here and use across your social media and on websites.
If you are a local business selling online, contact Jodi Eeles, letting her know if you are available for interview following any media requests.
How to get involved?
We aren't asking you to match big brand price drops for Black Friday – but if you do have any special offers, such as free local delivery that day or a discount, please shout about it by using #BuyLocalBlackFriday where possible. You can start using this as soon as possible – many large retailers are extending Black Friday from now until 30th November.
Download the artwork here to use on your social media and website. There is one still image and one GIF (moving image)
Put the hashtag #BuyLocalBlackFriday on all of your content and any offers/deals you may have along with #BlackFriday2020 and #BlackFridayWeek
Check that you appear in the MyCanterbury online shopping list. If not contact Rachel Pilard with your details and offer.
Use the hashtag even if you don't have any deals to shout out for yourself and other local businesses
Get creative and do a short video clip for social media writing the hashtag #BuyLocalBlackFriday on blackboards, windows, napkins, coasters; anything that could be related to your business to show you support buying local
Consider offering something for next year that sees customers buying now and redeeming in 2021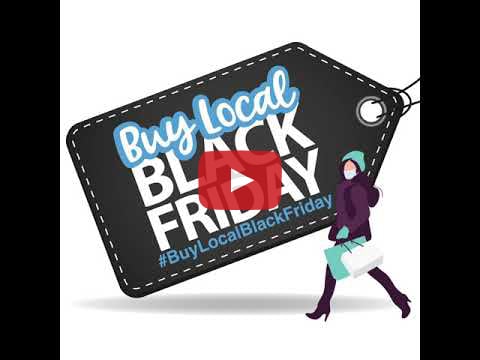 Other hashtags (#) and handles (@) you can put in your posts: #shoplocal @liveshoplocal @shopsmall #shopsmall @shoplocalclub #indiehour #enjoylocal #supportlocal #shopappy @jackiemulls #eatlocal #savethehighstreet @DownYourHighStreet @HighStreetsTF #BlackFriday2020 #BlackFriday #onlineshopping #blackfridayonline #shopindie #BlackFridayWeek
ARTWORK
The format of the graphics are suitable for all social media channels. If you have any problems, please respond to this email and we will assist you where we can. There is also a link below via WeTransfer to download the files